Teaching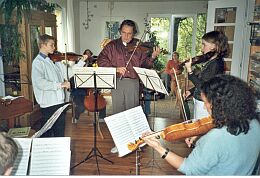 Jochen Brusch is also a dedicated teacher. (Click hear to read about a recent performance together with his students.) His pupils have regularly won prizes at the German youth competition "Jugend musiziert", some of his former pupils have become succesful musicians themselves.
Yet, also less ambitous violin-fanciers are welcome among his students.

Apart from his home town of Tübingen, Jochen Brusch has taught at various courses, classes and workshops, among these at the chambermusic-courses at Kloster Kirchberg (Black Forrest), the International Courses for Strings at Öster Jölby (DK), at the "Scatuola Armoniosa" in Perugia (I) and at the National Palace of Culture (Bulgaria). He has also given masterclasses at the City University of New York, Fullerton University of Los Angeles and State University of Arizona in Phoenix amon a number of other institutions.
Among the concert activities specifically designed to inform and enlighten pedagogical purposes the shows for children at Danish schools and the lecture-concerts, such as the series "The Violin and its Masters" for the University of Tübingen and "Portraits of Jewish Violinists" for the Synagoge in Hechingen deserve special mention.


Jochen Brusch about teaching in the 21st. century
During a 10-day-period in the summer Jochen Brusch has set up his own workshop both for his own students and other young players. These participants gather at the concertviolinists Danish home on the beautiful Island of Mors, where they form a string-orchestra (the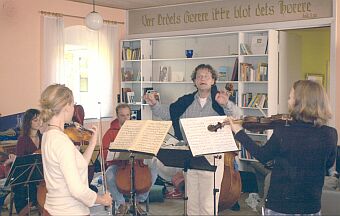 "Camerata Eben Ezer"). This group tours in Denmark and gives the youngsters the opportunity to perform in the orchestra and as soloists. In the summer 2001 the all-girl-group consisted of players from Denmark, Germany, Italy and Bulgaria. (Click here to read more about this event.)

Jochen Brusch has also composed music for young audiences. For his own students he has written a number of pieces and exercises, among these a collection of etudes based on works by J.S.Bach.
Click here to see some of this music.

Although not all of my pupils will once continue this great tradition, all of us are still members of this "family-tree of violinists". We all play an instrument that basically has remained the same in this ever faster changing world since it once appeared in its characteristic shape around the year 1550. Since then it has lost nothing of its magic.
Let us finish this small reflection with a short poem dedicated to the violin by Franz Grillparzer:
Four poor strings! – it seems like a joke –
For all marvels of Sound!
Yet Man has only one single heart
Which reaches all around.